Scalp Micropigmentation (SMP) is gaining popularity with people with balding or thinning hair. Many people appreciate the fact that it is a non-invasive and non-surgical procedure. Not sure what SMP is, here is everything that you should know about micropigmentation.
There are many factors that contribute to hair loss such as heredity and health problems. As a result, it can lower your self-confidence and self-esteem. There are hair loss treatments available, such as wigs, hair transplants, and medicines. It is, however, costly and does not always work.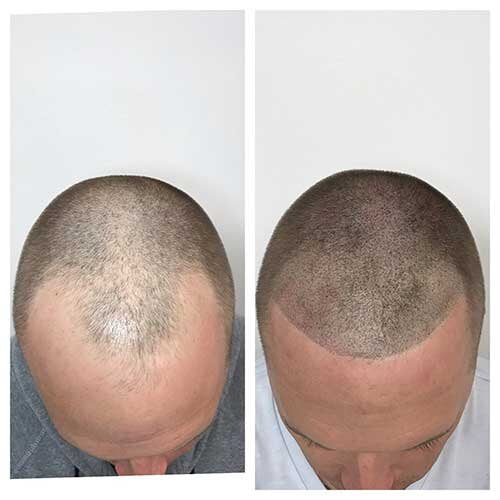 Good thing that scalp micropigmentation can regain your lost self-confidence. SMP has been used by thousands of patients all around the world. It also improves their overall quality of life after enduring hair loss problems.
SMP: What Is It And How Does It Work?
Scalp Micropigmentation is a procedure that involves injecting iron-oxide pigment into the scalp. SMP has evolved into a viable solution for hair transplants since its start in the early 1900s. SMP provides you with the look of having a full head of hair without the need for surgery.
How Does Scalp Micropigmentation Work?
In some ways, it is identical to tattooing. Yet, it is distinct in that the varying shades of pigment give hair follicles their natural appearance. It should only be done by a certified or professional technician and in a clinic.
Here at MAXIM SMP, we use a machine with microneedles to implant the pigments beneath the scalp. The size of these needles is the same as that of a hair follicle. This way, it's almost like they are making spots on your head that mimic tiny hair follicles. Furthermore, the pigments in SMP do not penetrate beyond the epidermis. Even though, this SMP procedure is identical to tattooing.
Are you worried that the pigment causes adverse effects? To ensure our clients' safety, our trained technicians only use anti-allergic pigments.
To produce hair follicles, the SMP procedure may usually be completed in 20 minutes and last up to an hour. The patient might then leave the clinic with a full head of hair on her head.
What Is The Scalp Micropigmentation Process?
In terms of procedure, SMP is like tattooing or microblading eyebrows. The only difference is that our technician uses the pointillism technique. After that, they start putting dots on your scalp to give your hair a fuller look. Men with balding hair may need to have a buzz cut. Then, using SMP, make them appear fuller than before.
What Is 3D Scalp Micropigmentation?
Scalp tattooing uses regular ink. For a more natural effect, 3D scalp micropigmentation uses high medical grade pigment. Also, the needles aren't perfectly round as needles for tattooing are.
Advantages of Scalp Micropigmentation
Scalp Micropigmentation (SMP) has a lot of advantages if you don't want to regrow your hair. It is also ideal when you want to seem like you have a full head of hair.
1. SMP Creates A Clean And Professional Look.
If you like a clean, shaved look, scalp micropigmentation is ideal for you. It's popular with celebrities, athletes, first responders, military personnel, and law enforcement.
2. Scalp Tattoo Helps Conceal Scars.
With a scalp tattoo, you'll get a clean, filled-in look of newly grown hair where there wasn't one before. Also, it also helps in covering up head scars caused by injuries or medical treatments.
3. It Requires Little Upkeep.
Since SMP is low maintenance, there's no need to apply products. Besides, you don't have to style your hair to achieve the appearance you want. Your hair will always be in good shape and ready to go.
4. Enjoy A Perfect Hairline.
Who doesn't desire a perfect hairline? A scalp tattoo may fill in the gaps in your hairline to give you the perfect look. Above all, women especially find perfect hairline appealing.
5. SMP Is Cost-Effective.
Scalp micropigmentation is less expensive than hair transplant surgery. Under local anesthesia, the patient can have the treatment at the doctor's office. What's more, the patient can be fully awake and have a chat with the technician.
6. Various Hairstyle Option.
Since there is no hair transplant involved, patients have a wide range of hairstyle options. The technician may apply the medical-grade pigment to any part of the scalp. As a result, this makes micropigmentation a versatile treatment.
As per the patient's request, hair may be added as well. The technician can make adjustments to the patient's request for higher hair density on the scalp. So, they can satisfy their patients' requests. Moreover, it is up to them how much follicular coverage they need.
7. Fairly Quick Procedure.
Scalp micropigmentation is a simple procedure that may be done in a single visit. The treatment will only take roughly twenty minutes to complete. It may take a bit longer or more than one session to get the desired level of density, depending on the client's goals.
8. Great Option For Patients With Medical Conditions.
Scalp micropigmentation is a fantastic choice for people who have medical issues. It is also a great alternative for people with alopecia.
Have you experienced hair loss due to illness or medication side effects? If so, then you may also benefit from this non-invasive hair restoration treatment.
SMP Procedure Pain Management
With SMP, there is very little discomfort during the surgery. Because the procedure is done under a local anesthetic. Any discomfort that comes after the procedure is easy to manage with the help of over-the-counter pain relievers.
Scalp micropigmentation takes less time to recover compared to hair transplants, which take longer to heal. You may expect SMP to recover in around a week.
Which hair restoration treatments have failed to help you?
Are you confused by the many hair loss treatment options?
If you are looking for a non-invasive hair restoration option, SMP might be an ideal solution for you. Moreover, it can cover hair loss as a result of illness or medical treatment.
When it comes to treating thinning and/or missing hair in some locations, SMP may appear to be a bold choice. This approach has been proven effective at reducing hair loss problems through a creative portrayal of what stays on top. It also gives you a boost of self-confidence from those who are going through the same thing you are.
SMP is a wonderful solution for people:
Currently experiencing hair loss
Have Alopecia
Wants a strong and perfect hairline
Have receding hairline or thinning hair
Want to conceal head scars
Scalp Micropigmentation: Are There Any Risks Involved?
SMP is an excellent approach to hide up bald areas or thinning hair. Although there are some unpleasant side effects, they aren't predominant! SMP has the potential for negative side effects. It is similar to other cosmetic treatments such as brow microblading and tattooing. Regularly, you may notice redness and irritation on your scalp. You don't have to be concerned because the itchiness and redness will go away within a few days.
You must first understand how this treatment works before making a decision. To know more, you can make an appointment with MAXIM SMP today. Our doctors will go through all you need to know about SMP. They will also discuss the risks involved in the treatment.
Are You Ready For Scalp Micropigmentation?
You are a good candidate for SMP scalp micropigmentation if you are bald or have thinning hair. Learn more about the cost of scalp micropigmentation. Our highly trained experts can make you look and feel your best with our revolutionary 3D scalp micropigmentation method. MAXIM SMP offers the most effective solutions for thinning and balding problems. We provide effective hair restoration treatments. As a result, you are then sure that you will have a beautiful head with our help. MAXIM SMP would love to hear from you.