Having a full head of hair is essential for many people's confidence and self-esteem. SMP is one of the most successful current hair restoration treatments accessible today. This is a non-invasive surgery with a quick recovery time. So, let us see who the best candidate for scalp micropigmentation is.
Revolutionary Hair Restoration Solution – Scalp Micropigmentation
Scalp micropigmentation (SMP) is an advanced type of cosmic pigmentation. It can be a good option for a variety of people who are now experiencing or have experienced hair loss. SMP can also be the cure for:
Receding hairlines,
Balding around the crown
Hair loss problem connected to disease and medical treatment
Are you overwhelmed by the various hair loss treatment options available today?
If you are disheartened by previous failed attempts at reversing hair loss, then SMP could be a great solution for you.
So, who is a candidate for scalp micropigmentation?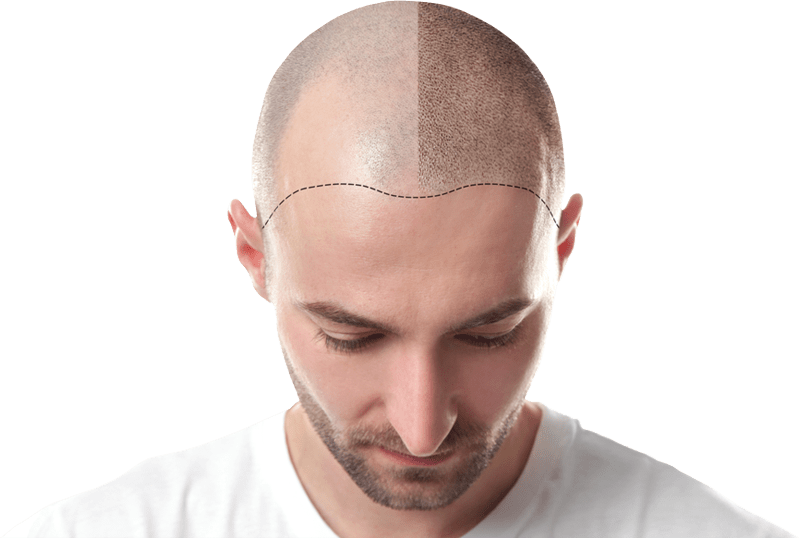 You must schedule a consultation with an SMP specialist. So, you can determine if you are a good candidate for scalp micropigmentation. There is one thing that we need to be clear about SMP. You've recently learned about SMP and are wondering if it's a treatment option for you. Except for a few rare cases, this hair restoration solution could work for everybody. In short, not everyone is eligible for the treatment. If you don't have any type of hair loss, then there is no point in getting an SMP treatment.
Hair Restoration Treatment: Who is the best candidate for scalp micropigmentation?
There is ONE thing we must understand here. Not everyone is eligible for treatment. Likewise, it will be absurd to get an SMP treatment when you are not experiencing any type of hair loss.
Balding or Thinning Hair: SMP Hair Restoration
SMP achieves the effect of filling in areas on your scalp that are patchy or thin. Thinning areas will look as if there is follicle growth with SMP hair restoration. As a result, your scalp will no longer be exposed. Those who maintain their hair very short are the best candidate for scalp micropigmentation.
Do you wish to avoid regularly shaving your heads?
If so, scalp micropigmentation may be the answer for you. The bald areas will appear to have hair after an SMP treatment, and the scalp will be covered. So, you don't have to shave your hair down.
Besides, going bald is another reason why men and sometimes women shave their heads. When you realize you are going bald in one area of your hair, it can be a little embarrassing. It is even more humiliating for a woman than it is for a male. When visiting friends, you may need to wear a baseball cap to avoid shame and ridicule. Due to this, micropigmentation is a choice for these individuals, too.
Hairstyle: Men Who Shave Their Heads
When it comes to hairstyles, everyone has a personal choice. Whether you are a man or a woman, something strikes your attention that you want to keep for a long time. Truth is, some people go so far on cutting their hair, in the same way, their entire lives.
The SMP hair restoration treatment is great for men who shave their heads regularly. Like Dwayne Johnson and Drake, it's simple to combine the hue with the skin tone. Besides, if you're suffering from hair loss, you may need to shorten your hair to qualify for the procedure.
Who is the best candidate for scalp micropigmentation: Maintenance
Hairstyles and maintenance are not always easy to come by. There is essentially no maintenance with SMP hair restoration. With SMP for hair loss, you can go about your daily routine and appreciate your new appearance. Moreover, you can now swim and shower without fear.
At MAXIM SMP, we warn our clients if they cannot maintain a lifestyle then do not start because it will ruin their life. Permanent cosmetics, particularly scalp micropigmentation, follow the same idea.
It is simple to keep up with and gives you that dashing appearance you've always wanted. As a model or star, you are horrified when baldness struck abruptly. Then, thanks to a high-quality Scalp Micropigmentation treatment, the situation was saved. One of the most amazing aspects of SMP treatment is that it is stress-free. You can resume your normal activities after completing the treatment and follow-up. This is the best option for you if you want something that can be readily maintained.
Affordability
A hair transplant is another great option for hair restoration if you have baldness. It is the surgical removal of hair follicles from the back of the head and their incision into the bald area.
Furthermore, hair transplants can be quite costly. Besides, the results can take a long time to appear. You may have to redo it a few times before the bald spot is entirely covered.
Scalp micropigmentation is less expensive than other hair and scalp treatments. Plus, it is 100% successful. It also produces the desired results quickly when performed by a certified technician.
Time: Who is the best candidate for scalp micropigmentation?
Many people are in desperate need of hair restoration. Yet, they don't have the time to wait a year to recover from a surgical hair transplant procedure. Yes, a hair transplant may cause you to take a leave from work or suspend your business.
SMP hair restoration is a short process for those who need and wants to see the results quickly. It is an excellent hair restoration treatment for people who must be at work all the time. The operation could take as little as two hours for a few sessions. Still, it depends on the surface area to be covered. Furthermore, the recovery time is short. You will have no problems as long as you adhere to the aftercare instructions.
Scars
It is not exactly enjoyable to show people your scars. Besides, it will open the door to unwelcome questions. They will start talking about nothing in particular that you do not want to answer.
Do you have a scar from a previous surgical operation or head trauma? If so, then you are an eligible candidate for SMP hair restoration. Scalp micropigmentation can aesthetically conceal or decrease the scar. At the same time, it helps increase the appearance of your hair density.
Scalp micropigmentation is an efficient approach to achieve flawless concealment of your scar. Also, the treatment will conceal the bald spot and make it as natural-looking as possible.
Do you have scars to hide from others and wish to keep your integrity to avoid undue familiarity? Then, you are one of the most significant candidates for SMP treatment.
Alopecia
It is a medical condition, which starts out with patchy hair loss in various areas of the head. Yet, Alopecia can progress to total hair loss. You are a great candidate for SMP treatment if you are the type who never wants to shave all your hair. Also, you can have a great hairstyle with SMP treatment. Moreover, no one will ask you about your baldness.
Seeking a Better Hairline: Who is the best candidate for scalp micropigmentation?
Hair loss can sometimes affect only the hairline rather than the entire head. Scalp micropigmentation can help both men and women enhance the look of a receding or ill-defined hairline. SMP will make it appear as if hair follicles are sprouting where hair loss has happened. Rather than a full hair transplant, those who want better hairlines can opt for a basic SMP treatment.
Are you eligible for scalp micropigmentation?
Scalp micropigmentation is popular for a variety of reasons. One of the most popular reasons is that SMP is less invasive and less painful than hair transplants.
Similarly, there are people who are candidates for SMP treatment like:
Eczema sufferers
People with psoriasis
Those who are afflicted with dermatitis
However, you may need to consult your medical professional to see if this process is right for you. The same is true if you have excessively dry scalp or chronic dandruff. Be sure to have an honest conversation with your micropigmentation specialist. So, that you can be sure the procedure is successful and the expectations are realistic.
SMP is a non-invasive hair and scalp treatment that can aid in hair regrowth or concealment. It is cost-effective, time-efficient, long-lasting, and 100 percent effective.
Are you experiencing baldness or have thinning hair?
Then, you are the best candidate for Scalp Micropigmentation. Do you want to learn more about scalp micropigmentation costs? Contact us to request a consultation and learn more about scalp micropigmentation costs. We look forward to hearing from you. Here at MAXIM Scalp Micropigmentation, we can help you look and feel your best. Enjoy the benefits of the 3D Scalp Micropigmentation technique, thanks to the help of our highly trained technicians.