Are you looking for a non-surgical hair loss cure such as scalp micropigmentation? Yet, you are not sure how much does a scalp micropigmentation cost. The cost of scalp micropigmentation varies. It may depend on how much hair loss each individual has experienced. Also, there are factors that can affect the price such as:
How much area needs to be covered with our follicle replications?
The artist's experience and skill
SMP is currently the most effective, efficient, and affordable option available. And, balding men and women can greatly enjoy this kind of hair loss treatment.
What is scalp micropigmentation (SMP)?
It is a procedure that involves injecting pigment (or color) to the scalp to mimic a natural hairline. Also, micropigmentation is similar to scalp tattooing but is far better in quality. Unlike scalp tattoos, scalp micropigmentation uses high-quality pigments. These pigments are specifically made to resemble the natural look of hair follicles. As a result, SMP gives a more authentic look.
Furthermore, scalp micropigmentation is a great and effective solution to hair loss. Also, SMP is more cost-effective than other forms of hair loss solutions like hair transplants. Patients enjoy the results much faster compared to other hair transplant procedures. Hair can take several months for the hair to grow after a hair transplant. Therefore, you can see the ultimate results of scalp micropigmentation just a few days after the treatment.
How much does a scalp micropigmentation cost?
What does it cost to get a scalp micropigmentation treatment?
This is one of the most often asked questions by those considering the treatment. The short answer to that question is: it depends. If you do your research, you may expect to pay somewhere between $1,000 and $6,000 for the procedure. This is a really big range. You can easily get confused about what you may expect to pay within this spectrum.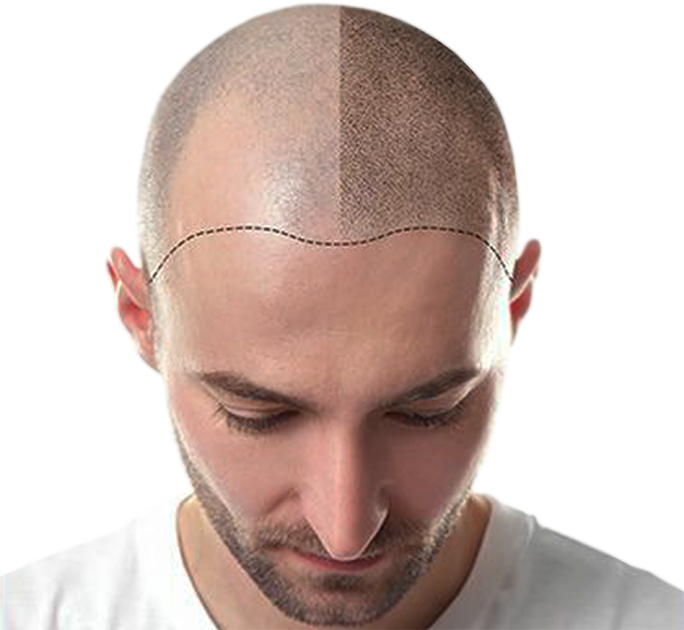 Every scalp is unique. Even people with healthy hairlines take the same amount of time in the salon to regain lost density. Use $4500 as a ballpark figure, with some wiggle room based on your specific needs.
If your hair loss is less advanced, the price is likely to be decreased as well. Let's say, you have full density, then you only need a small reconstruction of your hairline. The same goes if you just need to fill in an area on your crown, the SMP cost is likely to be reduced. Thus, the price can go up if you have scars to hide, alopecia to hide, hair to sift through, or a large region to fill in.
The truth is, many factors play a role in the scalp micropigmentation cost. To get an idea of what determines the scalp micropigmentation cost, let's take a quick look at the factors to consider.
SMP Cost: Factors to Consider with Scalp Micropigmentation
Desired results of scalp micropigmentation
The outcomes you desire are one factor that influences the scalp micropigmentation cost. Do you want a darker pigmentation for a more prominent hairline? If so, then you may need to undergo multiple micropigmentation sessions.
A multiple sessions will likely increase the scalp micropigmentation cost. Some individuals desire a lighter pigment based on their skin tone or preference. If this is the case, you may just require one session, which can reduce the cost.
Quality of procedure can affect the scalp micropigmentation cost
There are a variety of pigments available for scalp micropigmentation. Moreover, You can also choose from a variety of styles available. Also, your preference on the quality, color, and style can affect the cost of the procedure.
Do you want the best possible pigment for a high-quality and natural look? If so, then it means the SMP cost may go up if you want a hairstyle that is natural-looking and more detailed.
A good rule of thumb is to never go for a cheap pigment or procedure. Because you will get what you pay for at the end of the day. A low-quality pigment is likely to result in low-quality results. Therefore, your hair tattoo will not look authentic and do not meet your expectations.
3D scalp micropigmentation is one of the best micropigmentation procedures available today. This procedure uses advanced technologies and high-grade pigments. So, it can produce a very natural and authentic look.
Millions of men will experience hair loss at some point in their lives. Good thing that 3D scalp micropigmentation can solve this difficulty. 3D SMP not only gives looks like a full head of hair follicles from a distance, but it also passes the eye test up close. This is by far the most practical choice for people interested in SMP treatment.
What is 3D scalp micropigmentation?
It is a three- or four-step process that involves injecting custom ink into the scalp in a variety of methods. It also gives the look of a textured shaved scalp because some hair follicles show more than the others.
The procedure begins with a light ink pigment injected onto the scalp, followed by the sparing application of darker colors. The final procedure helps to best simulate the randomness with which hair follicles come back. It involves a very dark pigment being spread over the scalp in an uneven but deliberate manner.
3D scalp micropigmentation is a cost-effective investment that will restore your confidence. In addition, it can make you appear and feel years younger. However, you should shave your head regularly. So, you can prevent your remaining hair from growing out and making your hairline look odd. You will look to the rest of the world to have a healthy, full head of hair if you commit to shaving your head regularly!
Your hair loss level can affect the scalp micropigmentation cost.
The most crucial aspect in determining scalp micropigmentation cost is the level of hair loss you have. Here at MAXIM, we can calculate your hair loss level and price range using the Norwood hair loss scale.
I'm sure you're wondering what a Norwood is. It's critical to understand how far your hair has progressed when calculating your hair loss. The Norwood Scale is a visual representation that can assist us in determining the stage of hair loss you are experiencing.
Where you live can affect the cost of SMP treatment.
It's safe to mention that the price of scalp micropigmentation varies based on where you live. The cities with the highest SMP expenses are New York, Chicago, Los Angeles, and Miami, as expected. Smaller cities, on the other hand, may levy a lower fee.
Your special treatment requirements may affect the cost.
Special requests or changes you make that add additional sessions or hours of labor can also affect the price. For example, you decide to decrease or adjust a hairline after your initial treatments. Then, you should expect to pay an extra cost to the artist to do the change.
Scarring
This may require additional time and planning from a scalp tattoo technician. Because hair does not grow over scar tissue, further arrangements must be made. Besides, scalp micropigmentation is supposed to seem like natural hair stubble.
These possibilities add a layer of complexity to the process. In addition, they may take more or less time depending on the treatment.
Usually, a combination of a professional method and our regular SMP treatment is enough to hide lighter scars. Before starting with the full SMP treatment, our experts may advise focusing on scar restoration. Does the scarring is more pronounced? In this case, they may recommend pre-treatment using a unique camouflage ink method.
Quality of Micropigmentation Center or Clinic
There are hundreds of micropigmentation providers around the country. Also, they come in all forms of quality, prices, and experience levels. Choosing the right micropigmentation clinic is something you should not compromise.
Scalp micropigmentation treatment is a semi-permanent procedure. Therefore, you will live with it for several years. However, you need to lower your expectations on the quality of service you will receive if you go with an inexpensive facility. If you choose a high-quality facility for the surgery, you can expect to pay more than you would otherwise.
In the end, you're better off going with a high-quality, tested facility. This is because they specialize in micropigmentation procedures. Furthermore, their team has a wealth of experience and understanding of scalp micropigmentation. Going to an inexpensive clinic just to save money is risky enough. This is because you may not get the best service possible and end up with results that you aren't happy with.
Besides, there are a lot of good quality facilities that offer payment plans that make these procedures more affordable. Be sure to ask about this when you go to consultations.
If you are interested in exploring hair restoration methods like 3D scalp micropigmentation. Call MAXIM SMP today. So, our qualified and experienced hair loss specialists can discuss your options.  
MAXIM has offices located in several cities in the United States and overseas. To make an appointment, fill out their appointment request form. Also, the phone numbers of their nine office locations are available on this webpage.