For most men and women, hair loss is a major concern. Yet, it is not impossible to overcome. That is why so many people are opting for the non-surgical hair restoration procedure. This is to avoid the discomfort and other adverse effects of a hair transplant.
Nowadays, there are many options on the market for hair restoration. So, it can get a little confusing choosing which solution is the right one for you. Before making a decision, take some time to learn about the options available to you. Also, you must consider what you want the result to be. After that, talk to a hair loss specialist for their hair restoration recommendations.
What Is A Non-Surgical Hair Restoration Procedure?
It's common to lose 100-150 individual hair strands per day. Yet, if you observe bald patches or thinning hair, you may be suffering from hair loss. For many people, hair loss is a major problem. This is a result of natural aging and changes in the male hormone androgen, according to some. Men are usually better candidates for hair transplant surgery than women.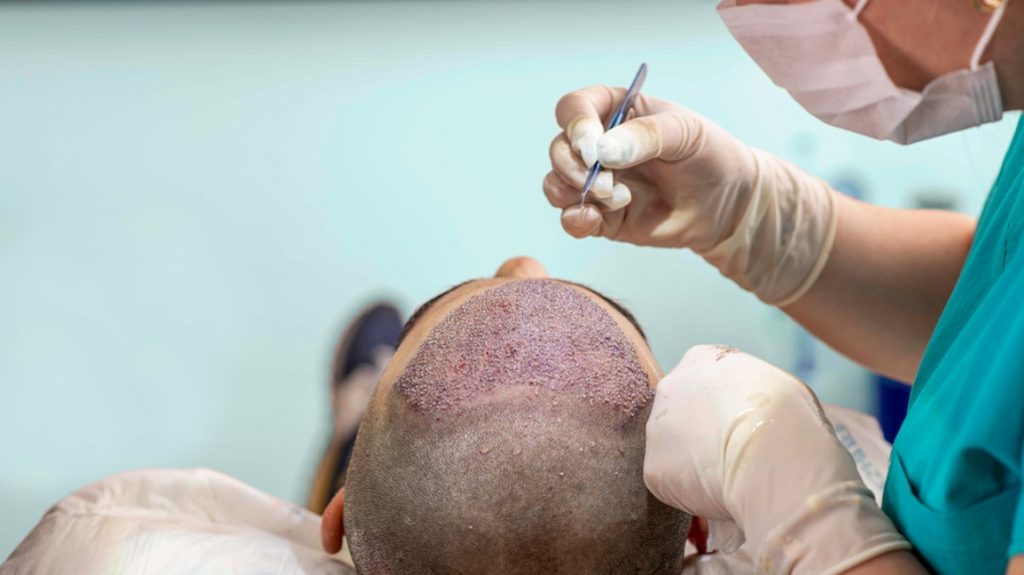 Are you concerned about hair thinning?
Don't worry!
Your hair restoration doctor can help you regain your confidence and halt hair loss. A hair transplant is too costly, risky, and severe to consider.
Are you seeking for hair transplant alternatives?
There are varieties of non-surgical hair replacement and restoration procedures available.
Let us get the facts straight before we get into the details. Do you have significant hair loss? Vitamins, specialty shampoos, and leave-in products will not make a significant difference. This is because the follicles of those individual hairs have gotten inactive. When you started balding, then these inactive follicles have stopped producing hair.
There are treatments and drugs that can produce results when used in the early phases of hair loss. Medications can help delay or stop minor hair loss by increasing hair growth. Also, it can also stimulate fullness in nearby follicles that aren't completely inactive.
Your doctor may suggest a different type of non-surgical hair restoration procedure. This includes:
Hybrid Procedures for Hair Restoration
Platelet-Rich Plasma Therapy
Stem Cell Therapy
The Best Hair Restoration Procedure
Micropigmentation and 3D Scalp Micropigmentation
Scalp Micropigmentation (SMP) is a non-invasive hair restoration procedure. It's a technique mimics the appearance of natural hair follicles. So, even if you have thinning hair, it gives the appearance of a full head of hair.
3D micropigmentation uses state-of-the-art and medical-grade pigment in the procedure. Don't confuse it with scalp tattooing, which uses ordinary ink and might appear unnatural.
Also, 3D Scalp micropigmentation gives a more natural look. All thanks to the ink quality and the stubble hair-mimicking technique used.
The scalp tattoo technician implants the pigment beneath the epidermis in artistic strokes. So, it will replicate the appearance of a shaven scalp with short hair. Truth is, it is an old Asian beauty regimen that has become more popular around the world.
Moreover, SMP can help enhance hair transplants or hide linear scars. Hair transplant doctors are using SMP together with other hair restoration procedure. Moreover, 3D scalp micropigmentation is a great alternative to hair transplant surgery. It is a great way to blend scars or partial alopecia. SMP produces the appearance of thicker or denser hair. That is why hair loss experts are using SMP in filling thinning regions into your natural hair.
Is Scalp Micropigmentation Safe?
In around two years, the immune system will bio-absorb the pigmentation on the scalp. Also, previous SMP hair restoration procedure has no limitations or deterrents. So, when a patient wants to have another hair restoration procedure, there will be no problem. The pigment fades away, leaving no trace of its presence.
What Are The Benefits of Micropigmentation Procedures For Hair Loss?
No surgical incisions are necessary. This means there is far less recovery time needed, and you will have no scars.
There is very little maintenance required.
You can return to your normal activities after the procedure.
The procedure is cost-effective and much more affordable than hair transplant & restoration procedures.
It's completely customizable, so you can choose the style and color as you please.
This is the perfect solution for people with thinning hair and male pattern baldness. People who have irregular hair loss or use other hair-system are good candidate, too. The procedure is also far more affordable than hair transplant & restoration procedures.
Am I A Good Candidate For Scalp Microneedling?
The best approach to figure this out is to set up a consultation with a hair restoration specialist. Scalp Micropigmentation restores a natural, more youthful appearance, and increased confidence.
SMP is an excellent option for individuals who are seeking thicker hair due to hair loss. It is also beneficial for those who are willing to put in the time to achieve completely natural results.
CIT is most effective for early stages of hair loss. It aids in the stimulation of hair follicles in the area of your scalp where hair is thinning. It is not, but, suggested for patients with advanced male pattern baldness. This is because it cannot stimulate hair follicles that stops producing hair anymore.
Furthermore, Androgenic alopecia is routinely treated with SMP. Also, CIT is used in conjunction with other hair restoration procedure. Moreover, microneedling can help address a variety of hair loss issues, like:
Alopecia Areata
Traction Alopecia
Telogen Effluvium
SMP Hair Restoration Procedure
Microneedling, a.k.a. Collagen Induction Therapy (CIT), involves making very small wounds on the skin. So, it can trigger the natural healing system of your body to heal the "wounds". CIT uses very thin needles to make small holes in the skin. As a result, it will leave tiny wounds on your scalp.
Scalp microneedling uses this technology to trigger new, healthy cells. So, it can generate hair production on the balding scalp. This will help the growth of new hair follicles. The procedure is done in many sessions in intervals of about one month. SMP is completely painless. Your hair restoration specialist administers a local anesthesia to the balding area. So, you won't feel any pain during the procedure. Scalp microneedling is a great way to trigger a person's natural hair to grow.
Benefits of Scalp Microneedling Hair Restoration Procedure
When performed correctly, scalp microneedling can help increase blood flow. Scalp microneedling is an excellent approach to rejuvenate your hair follicles' health. It also boosts blood flow around the scalp and stimulates collagen synthesis. Scalp microneedling does not need surgical incisions. Also, it does not need minimal maintenance. Thus, you can immediately go back to your daily activities. CIT is cost-effective, although, this hair restoration procedure requires many sessions. Despite that, it is less expensive compared to other hair transplant & restoration procedures.
Hybrid Procedures for Hair Restoration
For some people, one type of hair restoration procedure is not enough to get the desired results. In cases like this, hair specialists may use many hair restoration procedures. So, you can get the desired results in the best way possible.
Below are some hair restoration procedures that can be used together:
FUT & FUE for Hair Restoration Procedure
Hair transplant procedures involve taking hair follicles from a donor site. The donor site is an area of the head that has healthy hair. Then, transplant them to the desired location. There are two types of the hair transplant procedures and this are:
FUT, known as the strip procedure, is a hair restoration procedure. The hair restoration specialist cuts a slice of skin from the donor area. Then, he will extract the individual hair follicles. After that, the follicles will then transplant them into the parts of your scalp that are balding. FUT hair restoration procedure is the best way to hide male pattern baldness.
FUE involves removing individual tiny groups of hair follicles from the donor site. The surgery is painless and takes around six hours to complete.
The FUT results in thicker hair, while the FUE method results in more natural-looking hair.
Platelet-Rich Plasma Therapy and Stem Cell Therapy
These therapies involve using the body's natural healing systems. So, it can help triggering cell regeneration and repair in the scalp. As a result, Collagen Induction Therapy (CIT) and Stem Cell therapy can induce hair growth.
Collagen Induction Therapy (CIT) therapy aids in hair follicle restoration. It is a type of hair-growth treatment that employs blood. Hair loss patients have found Collagen Induction Therapy (CIT) procedures to be successful. People who are suffering from Alopecia Areata can also enjoy Collagen Induction Therapy (CIT) therapy. It helps hair follicles transplanted to the recipient area grow more quickly. It also thickens your current hair at the same time.
Stem Cell Therapy
In cosmetic surgery, stem cell therapy is an interesting and rapidly growing practice. Besides that, stem cells make use of the body's intrinsic healing abilities. Also, stem cell therapy can be used to cure hair loss. Additionally, stem cells shown to reverse the shrinking of hair follicles.
Hair restoration professionals used stem cell therapy to help restore hair follicles. During this procedure, the surgeons remove stem cells from your body's adipose tissue. Then, process and concentrate the extracted cells. To promote new hair growth, they will inject them into your scalp.
The Right Candidate for Hybrid Hair Restoration Procedures
Cannot get the desired results from one single procedure? Then, you may need many hair-restoration procedures. For example, you have a significant hair loss. Thus, a single session will not result in the hair thickness that you desire. You may need to undergo many sessions to achieve a head full of hair.
Hair Restoration Specialists Near Me
If you are interested in exploring hair restoration methods, call MAXIM SMP. So, our qualified and experienced hair loss specialist can discuss your options.
MAXIM has offices located in several cities across the United States and overseas. To make an appointment, fill out our appointment request form. You may also call our location near you by clicking here. So, you can learn more about the cost of our hair restoration procedure. We look forward to helping you look and feel your best!