For many people, the idea of Androgenetic Alopecia, or hair loss, is a sad one. That is why many turns to hair transplant surgery as a permanent remedy. However, the FUT hair transplant creates a large scar on the back of the head. This may be rather unsightly until new hair comes back in the region. If your car is a serious concern to you, you may consider a scar revision procedure.
Although hair transplant can solve hair loss, this method leaves ugly scars on the scalp. It also raises a serious issue that may have a significant impact on the self-confidence of a person. Still, do not lose all your hopes because SMP is an excellent solution for hair transplant scars.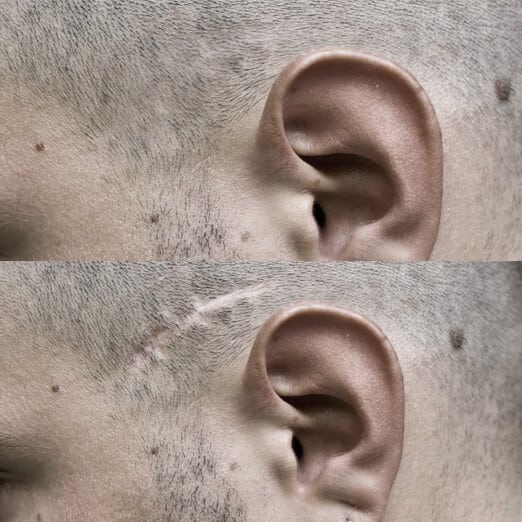 Scar revision can help you get rid of a scar on almost any part of your body. Undergoing a scalp micropigmentation is the only option to get rid of that scar. Thus, SMP makes it seem fully natural.
Everyone's body heals in a slightly different way. As a result, it can lead to unique scarring and marking from injuries and surgeries. Scars of various sizes and areas can make you feel self-conscious about your look.
Scar Revision Procedure Using SMP
SMP is one of the most effective techniques for scar revision. It involves using a high-grade pigment that matches the color of your hair and scalp to cover up a scar. Although, the scar appears to be indistinguishable when viewed from afar. Yet, the results appear to be very realistic when properly done by a competent technician.
Do you want to get rid of your head scars permanently? SMP scar revision procedure is a good option for you.
Scar Revision Procedure For Hair Transplant Scars
There is a chance that a person who undergoes a hair transplant procedure will develop scars on the head. Scarring is normal in hair transplant surgery. Even though, it is a minimally invasive technique. Moreover, it is not a reflection of the surgeon's surgical ability.
FUT and FUE are the two forms of hair transplant techniques. Both of these operations leave scars of a different color.
A FUT hair transplant involves removing a strip of hair at the back of the head. Then, the surgeon will be stitching it back together with the surrounding skin. If the patient's hair is thin, this will result in a long scar strip. Unfortunately, this scar will be visible for some time.
In an FUE hair transplant, the surgeon is extracting hair follicles. Then, replants them individually on the balding area. The scars left behind by the procedure are less visible. Still, FUE leaves bumpy, circular scars.
Scar Revision Surgery As a Head Scar Treatment
SMP can also be used to treat scars caused by other forms of head trauma. The technique works by infusing pigments into the scar to help it blend in with the rest of your scalp.
Yet, there are scars made up of a large layer of tissue. As a result, they don't respond to the pigment in the same way that a thin area of the scalp does.
As a result, the scalp revision procedure differs from other SMP procedures. Here's what you may expect from a scar revision procedure if you're thinking about it.
Scar Concealment Procedure For FUT
During FUT harvesting, the goal is to have the stitched areas blend in with the scalp's upper and lower areas.
To begin, the SMP technician examines the scar and draws a line on your head's back. After that, the technician dilutes the pigment. So, it will match the color of your scalp's skin. The ink is then injected into the scar strip and filled in with it. Depending on the size of the scar, it may need many treatments.
For FUT scars, the SMP technician needs to establish adequate concealment. So, scar revision usually takes up to three sessions.
Scar Concealment For FUE
Aside from a few minor adjustments, the scar revision procedure for FUE is quite similar to FUT. Oftentimes, FUE leaves bald patches on your scalp. SMP aims is to produce the appearance of hair follicles by preparing the ink. Then, it fills and conceals the scars correctly.
Furthermore, you may need to undergo multiple sessions if you want to get that buzz-cut look.
What are the different types of scars?
Keloid Scars – These are thick, spherical, uneven scar tissue clusters. It grows on the skin's surface at the location of a wound, but not within the wound's boundaries. Compared to the regular skin around it, Keloids often appear reddish or deeper in color.
Hypertrophic Scars – The growth of hypertrophic scars is similar to that of keloid scars. Yet, it is restricted to the initial skin defect's limits. These scars are usually thick and raised, and they may also be red.
Hypotrophic Scars – Hypotrophic scarring is a type of scarring that has a sunken look. Oftentimes, it is hyperpigmented as a result of a lack of collagen and substance.
Types of Scar Revision Procedures
There are a few different scar revision procedures that you can try. So, you can get the best outcomes for your unique scar type. Others may not notice your head scars. This is because your SMP technician can modify their SMP procedure. So, it can fit in with the surrounding skin tone and texture. As a result, scar concealment using SMP makes your head scars almost unnoticeable.
For reversing a scalp scar, there are a variety of options available. The following scar revision method below is expertly done by MAXIM physicians and highly-skilled technicians.
Scalp micropigmentation. SMP is used to conceal the scar in the surrounding skin and hair.
Scar excision. The technician uses surgical scar removal to close and seal the skin around the scar.
Dermabrasion. Our team will remove the top layers of scarred skin thru dermabrasion. So, it can allow a new layer of skin to develop over the scarred area.
Laser scar revision. Using this procedure can soften the surface of a scar. Also, it stimulates new collagen growth. As a result, laser scar revision promotes a natural look and healing process.
Skin grafting. This procedure involves removing a thin layer of skin from another region of your body. Then, apply it to the scar to cover and conceal it.
Scar Revision: Surgery to Remove a Scar
Do you want to look and feel better about your appearance? MAXIM's scar revision surgery can help. The first step is to meet with one of our experienced surgeons. Then, they will assess the range and position of your car. After that, they will recommend a plan to meet your aesthetic goals.
The body heals at different rates and in different ways depending on the area. In addition, each surgery has its own set of recovery timelines and expectations.
Additionally, you need to make sure to follow your doctor's recovery instructions. So, you can minimize issues and speed up your healing process. Above all, following the recovery guideline will help you achieve your desired outcomes.
What are the risks of scar concealment using SMP?
When performed by a trained specialist, scar revision surgery is relatively safe. Any surgery has bleeding, risk of infection, and the development of the scar.
Before and after your treatment, it's critical to follow any professional staff's advice. Additionally, be sure to express any concerns you may have at any time.
Where Can I Get A Non-Invasive Scalp Restoration Procedure?
Balding or thinning hair can make you feel self-conscious and insecure. If you are experiencing hair loss, then SMP could be a good option for you.
Do you want to see a scar revision before and after?
If you want to hide a scar, our staff can also assist you. Contact us for more information. MAXIM SMP provides an innovative 3D scalp micropigmentation procedure. Let our highly educated surgeons and medical technicians help you look and feel your best.
Learn more about the cost of scalp micropigmentation by contacting us at any of our locations across the world. You can also request a consultation by filling out our online form. We are eager to hear from you.