3D Scalp Micropigmentation is a hair loss treatment for men who are experiencing extensive hair loss. Hair loss affects millions of men at some point in their life. Fortunately, there are now several ways for preventing or concealing hair loss problems. It involves implanting high-grade pigment into the scalp using a high-tech microneedle. So, it can create the appearance of healthy hair follicles in regions where hair is thinning. Additionally, it restores the illusion of the hair's previous density.
You may look older if you have balding or thinning hair. Additionally, it can make you feel insecure and embarrassed. Are you concerned about your hair loss problem and seeking a solution? At MAXIM SMP, we provide 3D SMP, an innovative hair loss treatment.
What Is 3D Scalp Micropigmentation?
3D Scalp Micropigmentation is a three- or four-step procedure. It involves injecting ink into the scalp in several ways. Also, it mimics the "textured" appearance of a shaved scalp. With 3D SMP, it shows out some hair follicles more than others do.
Aside from enjoying a head full of hair follicles from afar, it can also pass the eye test up close. 3D SMP is far the most practical choice for people who wants scalp micropigmentation.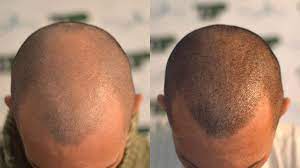 3D Scalp Micropigmentation is an invaluable investment that can restore your confidence. Moreover, it makes you appear and feel years younger. Yet, it is critical to shave your head regularly. So, the remaining hair doesn't grow out and creates an unrealistic hairline. If you commit to shaving your head regularly, you will look to the rest of the world to have a healthy, full head of hair.
At MAXIM Scalp Micropigmentation, our team perfected our 3D Scalp Micropigmentation procedure. So, we can help people who are experiencing thinning or balding hair problems such as:
Male pattern baldness
Alopecia
Incomplete or failed hair
The Procedure of 3D Scalp Micropigmentation
Regular tattooing uses regular ink that can turn grey and look unnatural. For a natural look, 3D SMP treatment uses medical-grade pigment. Moreover, a trained and certified technician performed SMP. To mimic stubble hair, they match small ink deposits to your actual shaven follicles. Wherever hair has thinned or been lost, they also deposit little hair strokes.
The procedure starts with a light ink pigment injected throughout the scalp. Then, it is followed by the application of darker colors sparingly. The last treatment uses a very dark pigment. So, it can replicate the unpredictability of hair follicle growth. This pigment will be applied to the scalp in an uneven but purposeful pattern by the technician.
How Does 3D Scalp Micropigmentation Work?
We use a machine with microneedles to implant pigments beneath your scalp. Hair follicles are comparable in size to these needles. They create areas that look fairly natural and resemble the hairs on your head in this way.
The pigments used in 3D SMP are close to tattoo pigments, except they do not penetrate the epidermis. We only use anti-allergic pigments to ensure that you don't have any adverse effects.
The SMP technique for creating hair follicles can take anywhere from 20 minutes to an hour. After that, you will look like you have a full head of hair when you leave the facility.
3D SMP is like a microblading eyebrows procedure. Our technician's only distinction is that he uses the pointillism artistic technique. Then, they start drawing dots on your scalp to make your hair appear fuller than it has in the past. A buzz cut is given to balding males.
What Is The Treatment Process Of 3D Scalp Micropigmentation?
You must shave and clean the balding region before your 3D SMP treatment. Then, our hair loss doctor will draw a line around your hairline. This line serves as a guide for where your new hairline should begin.
Our expert will then proceed to apply the microdots. We used a needle-equipped apparatus to apply them. Furthermore, unlike a tattoo gun, the needle will not pierce the skin as deeply. It is painless and the dots will blend in with the rest of your hair. Furthermore, the dots do not look to be unduly large.
The Benefits OF 3D SMP Treatment
3D Scalp Micropigmentation is customizable to your scalp, hair color, and goals. You can ask for changes to fit your desired density and appearance. Additionally, it gives you the appearance of a full hairline. In as little as two sessions, you can see results.
3D SMP treatment is non-invasive, requiring no incisions or scarring. Following the instructions, only minor maintenance is necessary. Because you're not limited by the texture of your own or donor hairs, you can also have whatever style you choose. Also, you can undergo high-density follicular restoration. So, it can match your preferred style, color, and hairline.
This process is less expensive than a hair transplant or any prescription medication. 3D Scalp Micropigmentation is also long-lasting, lasting. Its color and strength can last between 4 and 8 years. Following the initial operation, enhancement methods can be employed. So, it can help restore any fading color or further developed thinning and balding areas.
Is Micropigmentation On The Scalp Permanent?
3D SMP is semi-permanent since the pigment is applied to the epidermal layer of the skin. As a result, the pigment may diminish with time. Yet, if properly maintained, it can endure up to 4–8 years per finished treatment. At some point, you will need a single-session top-up treatment. In comparison, a hair transplant top-up session is more expensive.
How Long Does A Full 3D SMP Procedure Take?
MAXIM 3D Scalp Micropigmentation goes above and beyond traditional SMP. It's never a "one and done" 3D SMP process. The purpose of an SMP technique isn't to match hair loss to hair growth. Rather, it is to correlate areas of BUZZED hair to areas of hair loss.
If you are eligible for 3D SMP enhancement, the procedure can be done using trimmed hair. To match HAIR, more pigmentation is usually necessary than for buzzed-down FOLLICLES. So, it will need more treatment. Besides, it may need more frequent enhancement to maintain.
The benefits of 3D SMP go beyond what a conventional SMP technique can provide. Not simply buzzed-down follicles, but also growing stubble blends well.
Is It A Good Idea To Have A 3D SMP Treatment?
It depends on who is asking the question. For starters, classic 3D SMP is highly effective when done correctly. There have been no complaints that the SMP hairline is difficult to identify from a natural one. Meanwhile, 3D Scalp Micropigmentation treatments look great when done correctly.
Yet, there is one major drawback to 3D SMP treatments. These procedures are extremely hard to get right. The final scatter-through layer of pigment must be substantially darker. Thus, there is always its risk of appearing unnatural if not applied with care.
Is 3D Scalp Micropigmentation Right For You?
Thinning or balding hair can make you feel insecure and uncomfortable. It can also make you feel anxious and make you ponder what you can do to stop or avoid it. Do not waste your time trying to figure out what is causing these problems. Save yourself the effort and aggravation of experimenting with other "therapy" choices available. If you are losing your hair, you can be the best candidate for scalp micropigmentation.
Schedule an appointment with MAXIM SMP's skilled hair loss experts. So, you can have an accurate diagnosis and customized hair loss treatment plan.
Our highly skilled professionals can make you look and feel your best. All thanks to our unique 3D Scalp Micropigmentation approach. Contact us today for a consultation to learn more about scalp micropigmentation costs. We eagerly await your response.