The primary goal of SMP for most people is to get a natural-looking result. It's not a large statement piece and most wish to undergo treatment. Then, they return to their usual activities with the operation going undetected. So, does scalp micropigmentation look real and natural? Yes, but, there are some guidelines to follow to get a natural-looking result.
Scalp Micropigmentation: Will It Look Real And Natural?
MAXIM SMP often hears this question during consultations.
Is micropigmentation on the scalp detectable?
Will people at work going to notice?
We understand your concerns. Undergoing a scalp micropigmentation is a major choice. And, you want to be sure it's not another marketing product you saw over lunch.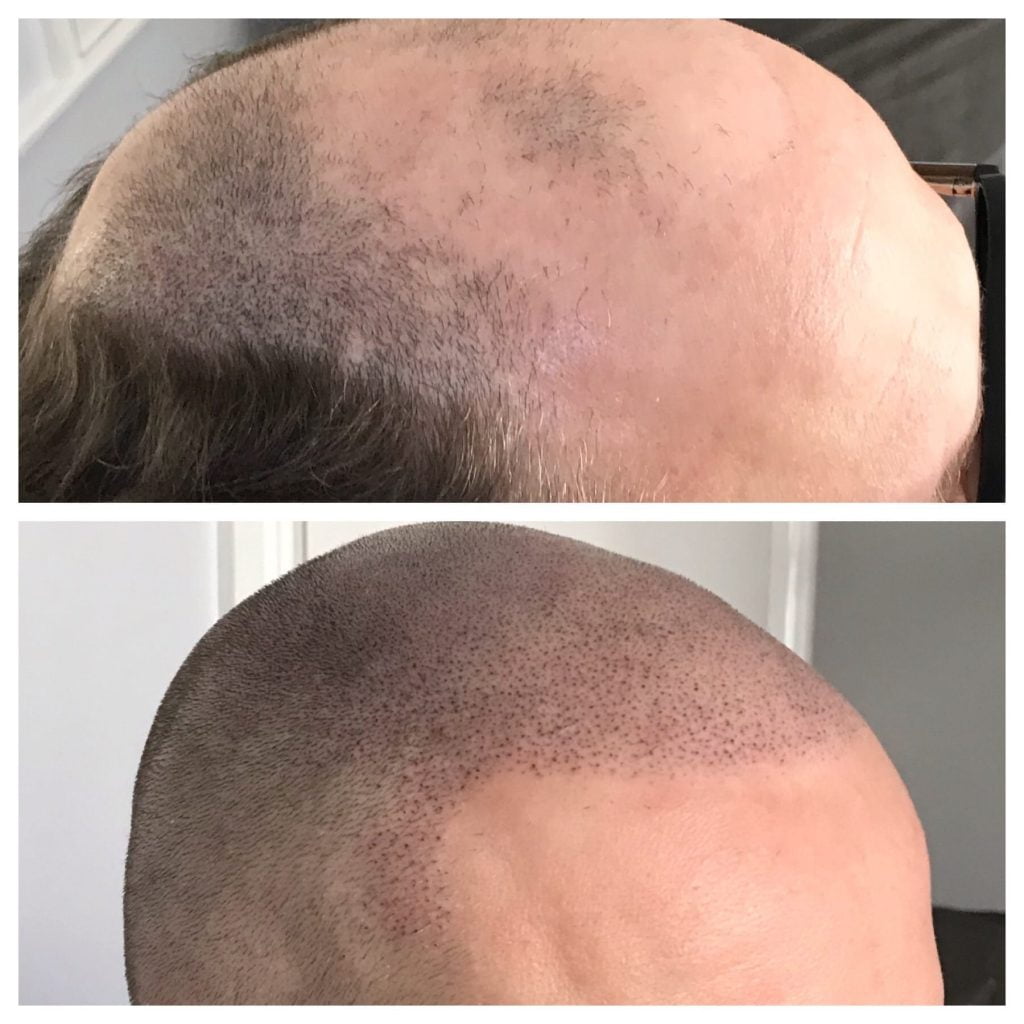 What Exactly Is Scalp Micropigmentation?
Let's start with a definition of scalp micropigmentation and how it works. Scalp micropigmentation (SMP) is a cutting-edge, non-invasive, non-surgical hair loss restoration. It uses a sophisticated micro-needling process to duplicate microscopic hair follicles. In a nutshell, micropigmentation is like tattooing as it stimulates the growth of hair for a few days. This non-surgical hair loss treatment is ideal for men who like a trimmed or near-shaven look. It is also ideal for ladies who need to fill in a thinning region.
Does scalp micropigmentation look real?
The benefits are instantaneous, and there is little to no upkeep required. We can give you the appearance of a full hairline if your hair is thinning. SMP is also ideal for receding hairlines in certain spots or if you are bald. SMP, unlike hair transplants or hair systems, is a modest yet effective modification.
The Process Of Micropigmentation
Micropigmentation is like tattooing, but not identical. Like tattoo artists, SMP technicians are creative, too. They use your skin as a canvas. Their aim is to make realistic-looking renderings of hair follicles. They do this by using shading methods to produce a realistic-looking scalp of shaved hair.
Before being able to do micropigmentation, technicians must complete comprehensive training. Also, they use sophisticated instruments to transfer pigment to the patient's scalp. SMP may produce elaborate, professional, and natural-looking results with a qualified expert. The equipment comes with one to six needles of various sizes and shapes. Each needle is capable of injecting different pigment colors into the scalp.
SMP: Does scalp micropigmentation look real?
The SMP technician will inject small droplets of pigment into the skin. The pigment penetrates through the higher dermis throughout the operation. We use microneedles that cycle 100-150 times per second to perforate the epidermis. As a result, it gives the skin a natural appearance. The technician feels their way through the procedure while assessing the results.
Each Procedure, A Priceless Work Of Art
Because each procedure is different, it will differ depending on the patient. For perfect results, the SMP technician must inject the correct amount of pigment into the scalp at the correct level. This requires the application of sophisticated mathematical equations. It may need the estimation of variables' relationships, such as:
Angle at which the needles are inserted
Depth to which the needle penetrates
Type of scalp that is being treated
Resistance
Viscosity
Color
Hue
The qualified technician also makes some modifications as he goes along. This varies with the careful attention to the parts of the scalp that differ from one place to the next. So, if you are wondering if the scalp micropigmentation looks real, it depends. To get a real and natural result, you must address and respond to the many aspects.
SMP may generate authentic appearing follicles. It may fill out bald areas or cover the entire scalp. It doesn't matter whether the patient has lost their hair due to:
Male pattern baldness
Hereditary occurrence
Scar caused injury
Thus, the customer may need many treatments to get the best results.
But Does Scalp Micropigmentation Look Real?
The answer is, yes, it does. Here's why you might want to consider micropigmentation as a possible treatment. So, you can have a suave, sophisticated look. Moreover, you don't have to deal with hair transplants or laser treatments.
Does Scalp Micropigmentation Appear To Be Real?
SMP Blending
Does scalp micropigmentation look real and natural?
The blending of your existing hair follicles is what makes this SMP so realistic. The technician can mix the treatment into your current hair. It doesn't matter whether you have hair on the sides or some hair on top. This aids in the creation of a unified appearance throughout the whole scalp. Also, the SMP technician can also mix the SMP treatment into your current hair follicles to create a 3D look. This procedure is known as 3D Scalp Micropigmentation.
Scalp Micropigmentation – Color Matching
For an undetectable result, we will match the color of your existing hair to that of our pigment. We do this by putting your head down and looking at your color on a scale of one to ten. As a result, you'll have a perfect buzzed look on your face.
How To Achieve a Natural SMP Hair Restoration Finish?
Well, this natural hair restoration procedure can give you a natural result. That is if you choose a technician wisely.
Does scalp micropigmentation look real?
SMP training takes a long time to complete. Moreover, it requires a great deal of patience, talent, and energy. Yes, there are a lot of untrained professionals out there. If you encounter one with a lack of training, the procedure can result in a sloppy and harsh result. Besides, you may suffer an uneven hairline and fake-looking finish.
That is why it is important to make sensible choices and plan your hairline. Only a reasonable design can make hairlines seem natural. You must take your doctor's recommendations. Also, you should not be tempted to go with a low-calorie diet. Also, side profiles that are straight or pointed can make SMP seem fake.
Furthermore, make a well-planned schedule for your scalp micropigmentation sessions. This will not change the final appearance. Yet, it will offer you the important level of privacy that is always sought.
Yes, with SMP, you can go back to your normal activity after the session. Yet, scalp micropigmentation takes around two days to fully develop after treatment. Thus, you need to plan your sessions before the beginning of weekends. Alternatively, attempt to integrate them into vacation days.
How to ensure that your SMP treatment is successful?
To ensure your SMP treatment looks real, you should follow your doctor's recommendation. Here at MAXIM SMP, we recommended before and after the procedure aftercare. This is vital for the long-term success of your scalp micropigmentation treatment. Not only it will give you a more natural appearance, but also avoid infection.
Furthermore, you should protect your scalp from strong UV rays during your treatment. A newly applied SMP treatment will be erased by the harmful rays of the sun quickly after treatment. If you live in a sunny area, wear a hat to protect your head.
SMP – Non-Surgical Hair Restoration
Are you looking for a way to treat your hair loss? You could be a good candidate for scalp micropigmentation. It is a non-invasive and natural hair restoration procedure. MAXIM Scalp Micropigmentation offers a comfortable session right in our office. We use sophisticated, state-of-the-art tools for scalp micropigmentation.
Do you want to learn more about scalp micropigmentation and its cost? Does scalp micropigmentation look real and natural? Contact MAXIM SMP for a free consultation. All your concerns will be addressed. Also, the atmosphere will remain warm and welcoming.